The Greisslerin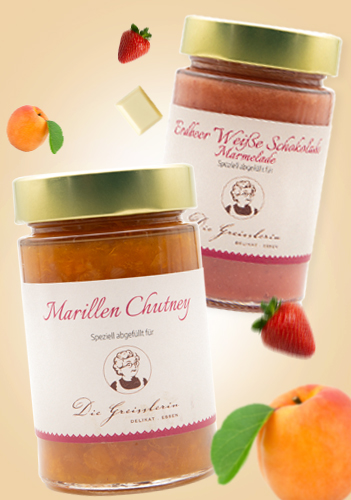 Thelove and passion for something special, with an eye for detail and the selection of the finest ingredients, are the key to the unique delicacies that make Die Greisslerin so incomparable. With recipes from grandmother's cookbook and completely new creations of her own, she cooks her way into the hearts of gourmets big and small. Handmade, without artificial flavours or ingredients, with regional products from organic farming and reduced sugar, Die Greisslerin focuses on quality and the highest standards. Anyone who is a friend of good taste - and appreciates the small, but fine things in life, will love the imaginative creations!
The Greisslerin - Mother's Day Menu
The Greisslerin - Valentine's Day Menu
The Greisslerin - Image film
Jams
Greisslerin says:
When strawberries, apples, blackberries or apricots slowly boil down and melt into a wonderful fruity jam, it not only fills the kitchen with the most aromatic scents. With fresh ideas from the Greissler, you can bring not only traditional classics but also modern trends to your breakfast table.
Chutneys
Greisslerin says:
Chutneys originate from Indian cuisine and are sweet and sour or sweet and spicy sauces made from chopped fruit and/or vegetables that are boiled down together with spices. The consistency of chutneys is similar to that of jam. Chutneys go very well with rice dishes or cheese.
Liqueurs
Greisslerin says:
"Once again, it was the French who invented it. Based on alcohol, and plenty of sugar combined with flavouring components. Depending on taste and preferences, from creamy-sweet to sour or spicy-hot flavours for completely different tastes. So let's enter the colourful world of these delicacies."
Sparkling wine
Greisslerin says:
"It sparkles in the glass. Sekt is a sparkling wine that is similar to Champagne but is produced outside the Champagne region in France. There are strict specifications, such as: base wine and dosage must come from the same growing region."
Rice
Greisslerin says:
"Rice is not rice. Risotto rice is basically starchier than long-grain rice. Part of the starch dissolves during cooking and thus creates the typical creamy consistency of the risotto dish. The core, however, retains its bite at the same time."
Oil
Greisslerin says:
" Oleum olivarum " in Latin. Olive oil is a natural product that not only tastes good, but is also considered a source of vitality and health.
With olive oil, you can enjoy Mediterranean flair in a way that is as healthy as it is tasty."
Cakes & Sweets
Greisslerin says:
Cake belongs to the fine baked goods. They are mostly sweet baked goods. A distinction is made between sheet cakes and cakes baked in a baking tin, mainly according to the way they are made. We at the Greissler fill it into a jar.
Chocolate
Greisslerin says:
For centuries, people in our world have succumbed to this sweet seduction. "Chocolate is happiness you can eat".